Hurtigruten Northern Lights Voyages Around Norway
Welcome to the Magical Coast of Winter Norway, Land of the Enchanted Polar Night and Mystical Northern Lights.
Video:
Northern Lights Voyage with Hurtigruten
Since humankind first experienced the natural phenomenon of the Aurora Borealis, we have been spellbound by their extraordinary beauty as they shimmer against the inky backdrop of a starry night sky. These celestial displays of greens, yellows and reds that dance like a sheet blowing in the wind have, over time, inspired artists and poets, aroused myths and legends.
An aurora (plural aurorae/auroras) is an electrostatic phenomenon, characterised by a bright glow and caused by the collision of charged particles in the magnetosphere with atoms in the Earth's upper atmosphere. An aurora is usually observed in the night sky, particularly in the polar zone. For this latter reason, some scientists call it a "polar aurora" (or "Aurora Polaris").
In northern latitudes, it is known as the aurora borealis, which is named after the Roman goddess of the dawn, Aurora, and the Greek name for north wind, Boreas. Especially in Europe, it often appears as a reddish glow on the northern horizon, as if the sun were rising from an unusual direction. The aurora borealis is also called the northern lights since it is only visible in the North sky from the Northern Hemisphere.
Download a copy of the Northern Lights Voyages Brochure.
Choose Your Hurtigruten Adventure Cruise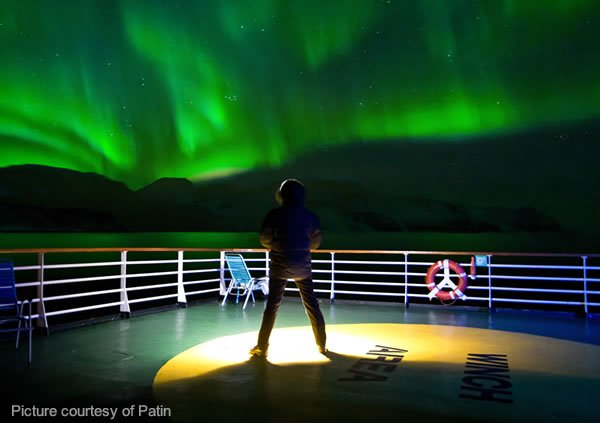 There is no better way to experience the Northern Lights than by sailing through the sheltered coastal waters, on board a ship from the Hurtigruten fleet with the Aurora Borealis set against a dark sky, free from artificial light. As you glide through the Arctic twilight, you become one with the peaceful atmosphere that descends around you. Clusters of houses glow like embers along the coast, small towns become cosy refuges as you pull into harbour to welcome new passengers on board, and snow-clad mountains reflect the polar light to bathe you in eerie shades.
Nature offers some of the greatest opportunities to see wildlife along Norwegian shores, and there is an exciting range of winter activities available, both on land and on board the Hurtigruten ships.
Opportunities include spotting animated pods of Orca, snuggling up warm in an ice hotel, being led by huskies on an unforgettable dog-sledge safari, snowmobiling across frozen lands, or venturing through ice caves in the realm of the polar bear.
Read more about the Northern Lights voyages to discover short breaks and longer voyages with a difference, find opportunities to celebrate Christmas, New Year and Valentine's in style, enjoy a departure with a more artistic theme, or perhaps join one of the festival departures.