Hurtigruten - Northern Lights Astronomy Voyage 2024/25
12 days / 11 nights

Bergen • Kirkenes • Bergen
Join this Arctic adventure to the remote regions along the dramatic coastline and to the most northerly part of Norway.
Much of the duration of this eventful voyage is spent above the Arctic Circle, increasing your chances of seeing the Aurora Borealis.
Be part of this popular Hurtigruten voyage to learn more about the Arctic night sky as well as the greatest light show on Earth, the Aurora Borealis.
We are delighted to offer nine dates for the Hurtigruten Astronomy Voyage in 2024 and 2025 accompanied by renowned astronomers Dr John Mason, Dr Darren Baskill, Dr Sadie Jones and Tom Kerss.
Through a series of lectures and a guided tour of the night sky from the deck of the ship, your lecturer will bring the world of stars, planets and meteors closer whilst also exploring the numerous myths and legends linked to the constellations in our skies.
Your Lecturers on Board :
Dr John Mason, MBE
On Astronomy Voyages departing Bergen :
An Applied Physicist by profession, Dr John Mason has been actively involved in Science for over 30 years, with Astronomy, Astrophysics and Space Technology as his main interests. He is currently Principal Lecturer at the South Downs Planetarium in Chichester, has been a Fellow of the Royal Astronomical Society since 1976, and is a full member of the International Astronomical Union. He lectures extensively in the UK and overseas on a wide range of scientific topics and is a frequent broadcaster on radio and television, having appeared many times with Sir Patrick Moore on BBC TV's 'The Sky at Night.
Dr Darren Baskill
On Astronomy Voyage departing Bergen :
Dr Darren Baskill has over 25 years' experience of organising and delivering public science events. He is a lecturer and outreach officer for the Department of Physics & Astronomy at the University of Sussex, and typically runs 100 outreach events each year for schools, colleges, and the public. He previously worked at the Royal Observatory Greenwich science centre and planetarium in London, where he initiated the highly successful Astronomy Photographer of the Year public competition and exhibition, and he was a calibration scientist for the European XMM-Newton space telescope at the University of Leicester before that. Darren is also a director of Ensonglopedia, a musical theatre company based in Lewes.
Dr Sadie Jones
On Astronomy Voyage departing Bergen :
Dr Sadie Jones is the Astronomy Public Engagement Leader at the University of Southampton. In January 2020, she assisted members of the Space Environment Physics group on an expedition to Svalbard, Norway to observe the aurora and collect research data. She also runs talks and school workshops on aurora research to promote 'The Aurora Zoo', a citizen science platform where the public analyse short videos of aurora displays.
Tom Kerss
On Astronomy Voyage departing Bergen :
Tom Kerss F.R.A.S. is an astronomer, astrophotographer, author and consultant. Having previously worked at the Royal Observatory Greenwich, he is the founder of Stargazing✦London, which delivers world-class online astronomy courses. Tom has authored numerous best-selling astronomy books for adults and children, including Northern Lights: The Definitive Guide to Auroras, which offers a complete introduction to nature's most magical sky-illuminating phenomenon.
Astronomy Voyage Fares 2024/25
Date
Ship
Price

Polar Inside

Polar Outside

Arctic Superior

Expedition Suites

2024
2 February 2024
MS Kong Harald
From
Sold
2,754
3,080
Call
28 September 2024**
MS Nordkapp
From
3,185
3.542
4,254
Call
27 October 2024**
MS Kong Harald
From
Sold
3,378
3,922
Call
25 November 2024**
MS Nordkapp
From
2,549
2,797
3,293
Call
Date
Ship
Price

Polar Inside

Polar Outside

Arctic Superior

Expedition Suites

2025
23 January 2025**
MS Nordkapp
From
2,965
3,378
3,922
Call
21 February 2025**
MS Kong Harald
From
3,063
3,398
4,070
Call
23 March 2025**
MS Richard With
From
3,144
3,494
4,193
Call
Date
Ship
Price

Polar Inside

Polar Outside

Arctic Superior

Expedition Suites
** Flight Inclusive from London Gatwick.
All above prices are in £s per person, for your Hurtigruten voyage based on two people travelling together and sharing a twin cabin.
Suites and Mini Suites are available on request.
Your voyage price includes :
• Return flights from London Gatwick, where indicated **.
• Hurtigruten voyage Bergen-Kirkenes in cabin grade of your choice including full board.
• English speaking tour leader on board.
• Entrance to the Hurtigruten Museum.
• Tour manager and lectures.
Not included :
• Return international flights, unless indicated as included. (Add a flight package from £tbapp)
• Transfers. (Included on flight inclusive voyages)
• Optional excursions
• Luggage handling
Prices may change at any time prior to booking. The 'from' price is the cheapest fare available. As cabins get booked up, the fares will increase to the 'to' fare. The applicable price will be quoted at the time of booking.
Itinerary
Day 1 - Bergen :
Ports visited today : Bergen
Embark on your celestial journey from Bergen, the vibrant entrance to the fjords and Norway's second-largest city. If time permits before your ship sets sail, explore the UNESCO-listed wharfs of the Bryggen district, characterized by colorful artisan shops and charming cobblestone streets. Just a stone's throw away lies the renowned Fish Market, offering delectable seafood options. Alternatively, take a ride on the Fløibanen funicular to ascend Mount Fløyen and relish breathtaking panoramic views of the city.
Settle in comfortably aboard the ship, embracing the laid-back atmosphere, and seize the chance to mingle with your fellow travelers and astronomers.
Day 2 - Ålesund:
Ports visited today : Florø, Måløy, Torvik, Ålesund, Molde.
Arrive in the Art Nouveau town of Ålesund, celebrated for its breathtaking and picturesque architecture. Immerse yourself in the city's charm, delving into its Norse history or pay a visit to Atlanterhavsparken, Northern Europe's expansive saltwater aquarium. For a scenic perspective, ascend small Mount Aksla to enjoy a panoramic view of the town nestled amidst islands.
In the afternoon, we dock at the port of Molde, revealing the extraordinary sight of 222 mountain peaks adorning the fjord, famously known as the 'Molde Panorama.'
Available Excursions :
2B Geiranger with Trollstigen Pass
2D Atlanterhavsparken Aquarium and Mount Aksla
2G A Mountain Hike in the Hjørundfjord
2H Hike with a Visit to a Shieling
2L Hjørunderfjorden, Geiranger and Trollstigen Pass
Day 3 - The Royal City of Trondheim :
Ports visited today : Kristiansund, Trondheim, Rørvik.
When visiting the old royal city of Trondheim, be sure to get a good view from the Gamle Bybrua ("Old Town Bridge"). Dating from 1861, this neo-gothic wooden bridge used to be the only way into the town centre. Nidaros Cathedral, built between 1070 and 1300, is Norway's largest Gothic religious edifice. In the neighbouring Archbishop's Palace, the Norwegian Crown Jewels are kept.
Not far from Nidaros Cathedral is Gamle Bybro, a charming wooden bridge that sits over River Nid and marks the entrance to the old Hanseatic district of Bakklandet. This neighbourhood features colourful wooden wharves that stand on stilts and host some of the city's most trendy eateries, making Bakklandet a key destination for all foodies. You then set a course for the northwest, past the beautiful Kjeungskjær lighthouse and thousands of little islands and picturesque rocky outcrops. After passing through Stokksund, the ship will arrive at Rørvik.
Available excursions :
3A Nidaros Cathedral and Ringve Museum
3B Trondheim with Nidaros Cathedral
Day 4 - Arctic Circle and Lofoten Islands :
Ports visited today : Brønnøysund, Sandnessjøen, Nesna, Ørnes, Bodø, Stamsund, Svolvær.
In the early hours of the morning, between Nesna and Ørnes, you pass a globe on a small islet which heralds your crossing of the Arctic Circle. Passengers sailing in Arctic waters for the first time are given an Arctic Circle baptism by Njord, the ruler of the Seven Seas. This comes in the form of an ice cube down your front or back, but is entirely optional.
As you call into the northern city of Bodø, gaze up at the snow-capped Børvass peaks before experiencing the fabulous street art this city has to offer. From here, you continue across the Vestfjord and towards the Lofoten archipelago which greets you with the stunning sight of the 1,000 metre-high Lofoten Wall
In the evening you reach Svolvær, the main settlement on the Lofoten Islands. These islands are renowned for their small, picturesque fishing villages with their bohemian atmosphere surrounded by majestic granite cliffs and white sandy beaches. Complete your visit with a stroll between the stockfish racks and 'rorbuer', the traditional, red fishermen's residences. The Lofoten Islands are a truly extraordinary experience.
Available excursions :
4A Glacier Adventure, Svartisen
4C Experience Bodø and Saltstraumen
4E Lofotr Viking Feast, Winter
Day 5 - Stokmarknes and Tromsø, Gateway to the Arctic :
Ports visited today : Stokmarknes, Sortland, Risøyhamn, Harstad, Finnsnes, Tromsø ,Skjervøy.

Embrace the enchanting atmosphere of Tromsø, the renowned capital of historic Arctic exploration, steeped in culture, history, and expertise on the Northern Lights.
Your day unfolds with a visit to the Science Museum of Northern Norway, where a myriad of exhibits and installations will deepen your understanding of the Northern Lights. A highlight of this excursion is a stop at The Planetarium, featuring a full-dome ceiling providing immersive 360-degree views. High-quality digital projectors showcase daily films on 'Experiencing the Aurora' and the constellations. Our team of expert astronomers will accompany you on this journey, so take advantage of the opportunity to pose any questions that come to mind!
Available excursions :
Day 6 - Honningsvåg and the North Cape :
Ports visited today : Øksfjord, Hammerfest, Havøysund, Honningsvåg, Kjøllefjord, Mehamn, Berlevåg.
Following the scenic sailing through Magerøysund and after an early stop in Hammerfest, you arrive in Honningsvåg. This small port is the gateway to the wonders of the spectacular North Cape which rises 300m from the ocean, and at 71° 10' 21" north it puts you a mere 2,000 kilometres from the Geographical North Pole. Standing atop the North Cape Plateau you'll get the eerie feeling of being at the end of the world.
From Honningsvåg, look out for the striking rock formation called Finnkirka near the entrance to Kjøllefjord village. The building-like pillars were once an ancient sacrificial site for the indigenous nomadic Sámi people who still inhabit and herd reindeer in the region today.
The area is also known for its bird life, and Gjesværstappan, a bird sanctuary with up to 250,000 seabirds is home to some High Arctic species that can only be observed here on the Norwegian mainland. This evening, as you approach Kjøllefjord, you pass a rock formation that is sacred to the indigenous Sami people, Finnkjerka.
Available excursions :
Day 7 - Kirkenes, The Voyage Turning Point :
Ports visited today : Båtsfjord, Vardø, Vadsø, Kirkenes.
The last port on the Hurtigruten Voyage North is Kirkenes. And at longitude 30 east, you are actually further east than Istanbul and St. Petersburg. The well-policed Russian border and the Kola peninsula are close by which explains why the road signs are written in both Norwegian and Russian.
Being at the north-easterly terminus of Hurtigruten, the only choice from here is to set south again but spending a few days in Kirkenes offers you the opportunity to take part in some of the adventurous Arctic activities available nearby.
Available excursions :
7B River Boat Safari to the Russian Border
7E ATV/Quad Safari to the Russian Border
The Northern Lights over Tromsø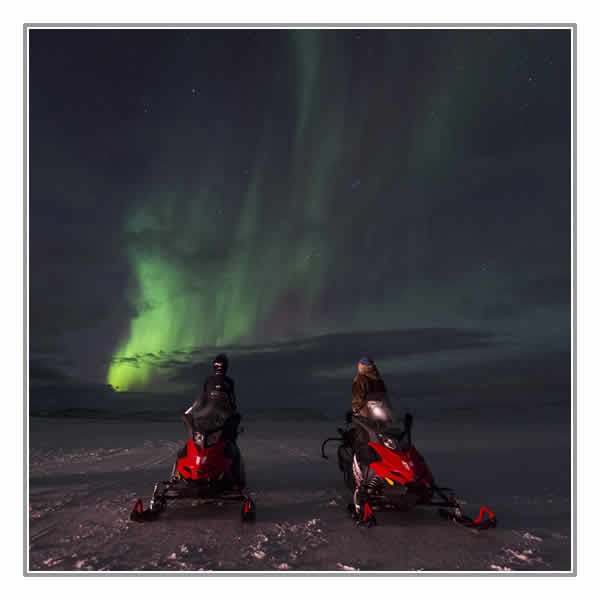 Snowmobiling under the Northern Lights
Husky dog-sledging excursion
Day 8 - Hammerfest and Tromsø :
Ports visited today : Mehamn, Kjøllefjord, Honningsvåg, Havøysund, Hammerfest, Øksfjord, Skjervøy, Tromsø.
Breakfast at the North Cape forms part of an early morning excursion (at extra cost). Your next stop, Hammerfest, was a settlement back to the Stone Age and is still playing an important role as a fishing port. Founded in 1789 to develop trade with Russia, Hammerfest reconfirmed its position as Norway's Polar capital of its time, acting as a base for hunting expeditions to the High Arctic. In Hammerfest the Meridian Column, erected in 1854, commemorates the first precise measurement of the globe, an achievement so important that it's become a UNESCO World Heritage Site.
As we sail, keep your eyes open for the Northern Lights, but you might also spot pods of Orcas and Humpback Whales migrating to these waters to feed on herring.
As early as 1891, wave energy provided power to the first electric street lighting in Northern Europe, and energy innovation is still a signature for Hammerfest with its large Liquid Gas Plant just outside town. From here, your next major stop will be Tromsø where you are invited to take part in a very special musical experience, The Arctic Cathedral Midnight Concert. Or why not head to one of the town's many friendly pubs and sample the local brew, Mack's Arctic Beer.
Available excursions :
8A Breakfast at the North Cape
8B The Northernmost Town in the World, Hammerfest
8C Midnight Concert in the Arctic Cathedral
8F Snowmobile Trip in the Polar Night
8G Mountain Hike in Hammerfest
Day 9 - Vesterålen and Lofoten Islands :
Ports visited today : Tromsø, Finnsnes, Harstad, Risøyhamn, Sortland, Stokmarknes, Svolvær, Stamsund.
The Vesterålen and Lofoten Island are amongst today's highlights. Before you reach them, you pass through Risøyrenna, a channel that was specially constructed for Hurtigruten, providing the vessels an 'inside route' between Harstad and Sortland. Stokmarknes, where Hurtigruten was founded, is the location of the Hurtigruten Museum.
You continue through the narrow Raftsund, the picturesque narrow channel between the Vesterålen and Lofoten Islands, where, time and weather permitting, you'll take a detour into the spectacular Trollfjord where steep cliffs hug the ship's sides. Then it's on to Svolvær, the main settlement on the Lofoten Islands followed by Stamsund where the majestic peaks of the huge Lofoten Wall can be viewed. You leave the islands during the evening and set course for the mainland.
Available excursions :
9I Vesterålen and Lofoten by RIB
Day 10 - Arctic Circle, Seven Sisters :
Ports visited today : Bodø, Ørnes, Nesna, Sandnessjøen, Brønnøysund, Rørvik.
The Helgeland coast with hundreds of islets, fertile farmland and steep granite walls is worth getting up early to experience. Today will also be your last one north of the Arctic Circle as you cross it between Ørnes and Nesna. Marvel at the Seven Sisters mountain range where local legend has it that seven beautiful troll princesses, fleeing from an unwanted suitor, got caught out as the sun rose, turning them into the seven beautiful mountains you see today, and the myth about how the arrow from Hestmannen's bow formed the hole in Torghatten Mountain. The Vega Archipelago, a UNESCO World Heritage Site, is close to your call in Sandnessjøen.
The islands were inscribed on this prestigious list due to the unique interaction between man and nature - over centuries the local population have protected the eider duck nests in return for the highly valuable down from the birds.
Available excursion :
Day 11 - Trondheim and Kristiansund :
Ports visited today : Trondheim, Kristiansund, Molde, Ålesund.
Today gives you another opportunity to explore the city of Trondheim. Nidaros Cathedral, in which three Queens and seven Kings have been crowned, is Scandinavia's largest medieval building, and Norway's crown jewels are kept in the adjacent Archbishop's Residence. Some insider advice: treat yourself to a barista-brewed coffee and Nordic patisserie in one of the many cafés in the Bakklandet district before walking up to Kristiansten Fort for great views over the city.
Passing the islands of Munkholmen and Hitra you then cross the open sea to Molde, known as the 'city of roses' due to its lush Gulf Stream location.
You will notice the steep, grey, pointed peaks of the Romsdal Alps glinting in the sun. The town of Kristiansund, located on the scenic Atlantic Road, holds the rather obscure title of Norway's 'cured cod capital' because of the nature of its main export.
Available excursions :
11A Trondheim with Nidaros Cathedral
11B The Hidden Rooms of Nidaros Cathedral
11E Bergtatt - A Magnificent Marble Mine
Day 12 - Rocky Islands, Disembarkation :
Ports visited today : Ålesund, Torvik, Måløy, Florø, Bergen.
Today, your Hurtigruten voyage will come to an end when you arrive in the City of Seven Mountains, Bergen. But before that, you still have a few nautical miles of fascinating scenery ahead of you such as the picturesque Nordfjord below the enormous Jostedalsbreen glacier, Norway's longest fjord - the mighty Sognefjord and the picturesque Bergen Archipelago. Take home your memories of the world's most beautiful voyage and the many seafaring companions and friends you've made along the way.
Available Extensions :