Hurtigruten - Arctic Wonders 2024
8 days / 7 nights

Bergen • Kirkenes
This Hurtigruten Arctic adventure of a lifetime includes the unique experience of a night in a snow suite at the Kirkenes Snow Hotel plus the chance to add some exciting winter activities.
Starting in Bergen and travelling north on board your comfortable Hurtigruten ship look out for the magical Aurora Borealis as you sail through sheltered waters towards Kirkenes high above the Arctic Circle.
Day 1 :
Fly from London Heathrow to Bergen, Norway's second largest city and gateway to the fjords.
If you have time before your ship sails, visit the UNESCO-listed wharfs of the colourful Bryggen district, which is now an artisan quarter complete with cobblestone streets. Just across the street is the famous Fish Market serving up delicious seafood. There's also the Fløibanen funicular which whisks you up Mount Fløyen for stunning views of the city.
Before boarding, relax in Hurtigruten's comfortable guest lounge at the terminal. Once on board, enjoy the first of many delicious meals made from fresh coastal produce as you depart Bergen and sail the old Viking route along Hjeltefjord.
You'll also meet your ship's Coastal Experts who will be your guides as you cruise Norway's coastline, organising lectures, onboard activities, and optional hikes.
Available Extensions :
Day 2 :
After making several brief night time calls along the unspoilt coastline, you reach the delightful town of Ålesund which was completely rebuilt in Art Nouveau style having been destroyed by fire in 1904.
Here you have the option to explore this fascinating location on foot. Leaving Ålesund you head north towards Trondheim.
Available Excursions :
2D Atlanterhavsparken Aquarium and Mount Aksla
Day 3 :
Arrive early morning in Trondheim, you have time to explore Norway's former capital and discover its delightful wooden buildings, brightly painted wharves and warehouses plus the impressive 14th century Nidaros Cathedral.
Available excursions :
3B Trondheim with Nidaros Cathedral
Day 4 :
Crossing the Arctic Circle, get ready for your 'ice baptism' on deck. You are now in the Auroral Zone where sightings of the Northern Lights are more common. From here, you sail up towards the idyllic scenery of the legendary Lofoten Islands, where you can take part in the Lofotr Viking Feast excursion or enjoy an after dinner stroll in Svolvær. Perhaps visit the world's first Ice Gallery 'Magic Ice', which features dramatically lit ice sculptures and atmospheric music that illustrate tantalising tales about the islands and their people.
Available excursions :
4C Experience Bodø and Saltstraumen
4E Lofotr Viking Feast, Winter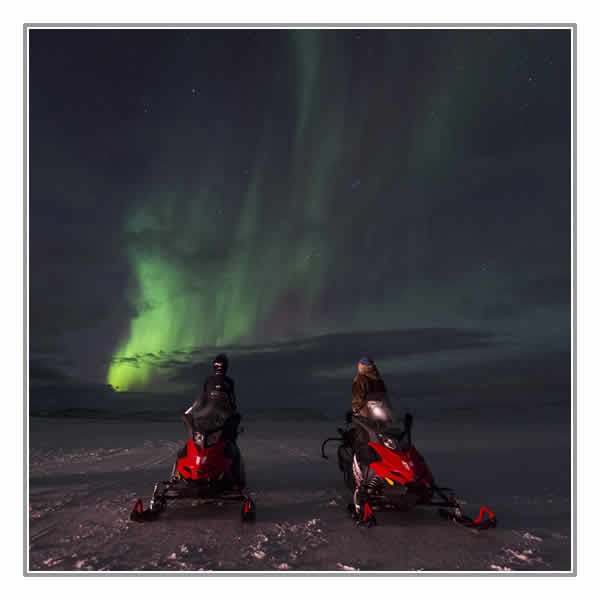 Snowmobiling under the Northern Lights
The Northern Lights over Tromsø
Snow Hotel Kirkenes
Day 5 :
Following a relaxing morning on board you arrive mid afternoon in Tromsø, Norway's Arctic capital, a great place to see the Northern Lights and to soak up life high above the Arctic Circle.
This is also an ideal location to gain a real taste of the Arctic by joining an optional dog sledging excursion, a truly exhilarating and unforgettable experience.
Available excursions :
Video:
Kirkenes Snow Hotel
Day 6 :
Following an early call at Hammerfest you arrive in Honningsvåg, the portal to the wonders of the spectacular North Cape, mainland Europe's most northerly point. Evening call at Kjøllefjord where you can join the thrilling snowmobile trip in Lapland excursion.
Available excursions :
Day 7 :
The vistas and sea life become more dramatic as you approach Kirkenes, just a few kilometres from the Russian border and the Sami communities of Northern Finland.
Transfer for your special Arctic experience to the Snow Hotel, constructed entirely from snow and ice each year and conveniently located for enjoying Husky dog sledging, king crab safari and many other exciting winter activities.
Your stay includes dinner by the open fire at the Gabba Restaurant.
Available excursions :
Day 8 :
Wake to breakfast at the Snowhotel and visit some of the local reindeer at Gabba Park, or join a winter excursion. Return to the UK or continue your experience with a few nights in the Snowhotel's stylish Gamme cabins
DEPARTURES 2024 :
January : 8, 11, 17, 19, 30.
February : 13, 19, 21, 24.
March : 6, 12, 23, 26.
Arctic Wonders Fares 2024
Cabin Grades
Polar Inside
Polar Outside
Arctic Superior
Expedition Suites
Date
Twin Price
I
K
J*
N
O
P
U
QJ
Q
M
MG
MX
AJ*
A
L*
2024
Jan
From
1,946
2,132
2,504
Call
Feb
From
2,079
2,288
2,706
Call
Mar
From
2,166
2,390
2,838
Call
PLEASE NOTE:
*Some J, AJ and L grade cabins may have a limited or no view.
All prices are shown in £s per person, based on two people travelling together and sharing a twin cabin, voyage only.
The ship departure date determines the price of your voyage.
Not all cabin grades are available on all ships.
Cabin Single Supplements available on request.
Hurtigruten has a flexible pricing system and all prices are capacity controlled and subject to availability. Prices may change at any time before departure date. You will be given the correct price at the time of booking.
Your voyage price includes :
• 7-Day Hurtigruten voyage Bergen-Kirkenes in cabin grade of your choice including full board on 'Select' basis.
• Transfer to the Snowhotel in Kirkenes.
• English speaking tour leader on board.
• One night at the Snow Hotel including dinner and breakfast.
• Complimentary tea and coffee.
• Complimentary WiFi
• International flights from London (Regional flights available at a supplement)
• Transfers to/from airport/ship/hotel.
Not included :
• Optional excursions
• Luggage handling
Prices may change at any time prior to booking. The applicable price will be quoted at the time of booking.